Education & Schools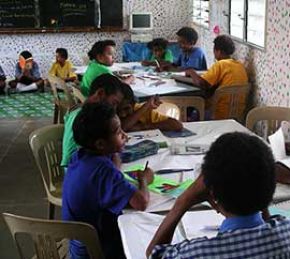 The salvation Army Papua New Guinea provides good quality Christian education to over 4000 children and young adults.
This takes place through Elementary Schools, fee paying private Primary Schools, Computer Schools, Childcare Center and a Literacy program.
The fee paying schools are located at Lae, Port Moresby and Kimbe. The elementary schools are located in rural arears including Goroka, Kainantu, Kerowagi, Tent City & Tamba
Unfortunately in the past 10 months we have closed two fee paying schools. FODE catered for students studying through distance education and Koki Secondary School catering for students in grades 9 - 12.
Literacy
There are 194 Literacy programs
throughout our territory.  The aim of literacy is to improve the literacy skills of children and adults in communities where the Salvation Army is represented.     This is a much needed ministry all over the country where 50% of children do not attend school.  Literacy classes are extremely valuable, and often the only school in the community.   The literacy classes are usually held in the local corps.
 Kwikila is a small station in the South Eastern Division, where mostly public servants reside; people from nearby villages visit the station due to the local food market, and children travelling to and from to attend Schools (Elementary, Primary & Secondary).   The local corps built a shelter for the literacy program
 The certificate given to the children when they graduate from Literacy gives them priority to go straight to Elementary school because of the level of literacy they have received.    Community village leaders and Salvation Army divisional staff attend the Graduations.
Primary Schools
Boroko Primary School
Administrator – Colonel Margret Bateman 
Deputy Principal – Mrs Sue Suari
Chaplain – 
Office Manageress     Mrs Rebecca Gabi
Boroko Primary School caters for students from preschool to Grade 8. Each class has a teacher and a teaching assistant.
Lae Primary School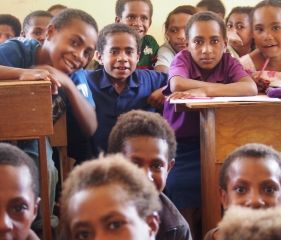 Administrator –   Major Hector Crisostomo
Chaplain – Major Melba Crisostomo
Principal –  
This school is located on the same property as the Divisional Headquarters, Lae Church and Lae Motel.
 It started from humble beginnings and has now 655 students and 55 staff.
Driving School
Driving School – Boroko 
Computer School
Kimbe Computer School  The students complete work experience at various business
around the Kimbe district and on graduation are employed locally.
Child Care Centre 
 Mary & Martha Child Care
Administrator: Lieutenant Lahui Gabe            
   T.I.C.              Mrs Esther Raga          
  Students 45
   Teachers / Staff 5
   Hours of operation: 7.30am – 3pm Monday to Friday during school terms.
 This centre caters for children from 18 months to 7 years in two separate rooms.  
Mrs Raga is the teacher of the preschool class ( age 4 – 7) assisted by Mrs Apa. The toddler class (18 months – 4) is under the direction of Mrs Delly and Miss Serah. The atmosphere in the centre is good and the children are learning in a caring and safe environment.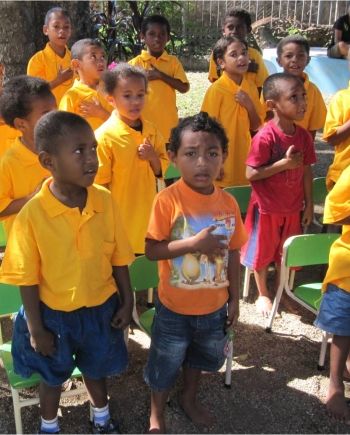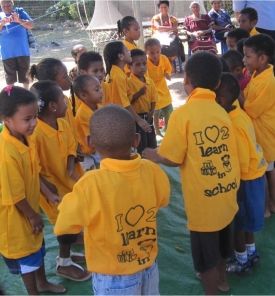 Rural Elementary Schools
There are a number of developing Elementary Schools in the rural areas.  These are Government supply schools (Government supply and pay the teachers) but the registration
of the School is in the Army's name.  These are as follows:
             Goroka Elementary School (based at Goroka Church)   
             Kainantu Elementary School (based at Kainantu Church)
             Kerowagi Elementary School (Kerowagi)        
             Tamba Elementary School (Kimbe)    
             Tent City Elementary School (Lae)   
Street School
Lae Street School
Lae Street School provides educational opportunities to 150 children from the streets who for a number of reasons have not had the opportunity to continue their education
. The reasons include :-
Poverty
 Families going to their villages without schools and returning to the city. Children then cannot re-enter education.
AIDS Orphans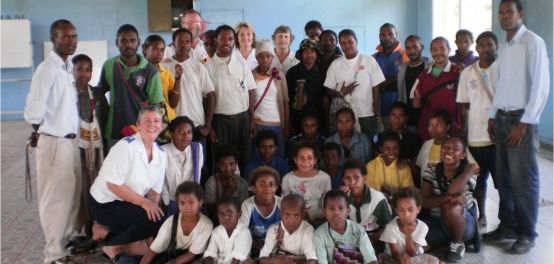 The Lae Street School was started
by two young men, just a few years ago. Another teacher has joined them.
Students attend the Lae Street School voluntarily.  They are recruited by the teachers using Tuesdays to walk the streets and approach children who are begging on the street. Student ages range from 5 to 18.    A feeding program operates alongside the education program
which assists in keeping attendance rates high.
They meet in a large hall that at night sleeps dozens of homeless, lined across the floor on simple mats. In the morning, the homeless pick up their mats, and students file in.
They are divided into two groups, older children on one side of the room, and younger children on the other.
Using borrowed copies of books and materials, the teachers give instruction
on reading, writing, grammar, and maths.
These teachers, themselves devoid of any formal training
, teach to a level where the younger students are able to return to school while older students have been able to secure employment.   We are in the process of trying to find more funding to keep the ministry of Lae St School.