Projects that need funding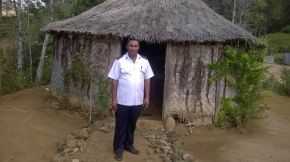 In front of The Salvation Army Aikos fellowship (Enga) worship hut. If your heart is touched by this, what can you give to build a proper hall for the people here to enjoy worship during wet seasons?
PROJECTS
Our Projects team works with local communities and villages to achieve the United Nations Millennium Development Goals, particularly alleviating poverty and providing universal education.
Our aim is to provide resources to support the physical, economic, social and spiritual needs of our community.
We believe poverty is more than a lack of food or money: poverty is a preventable injustice that limits people reaching their potential. Our work focuses on supporting both individuals and communities by resourcing and empowering them to build a better life and future.
Current
Goroka Motel – upgrade of rooms.  The motel is in poor condition.   In order to attract more customers, and a higher room rate, the motel needs to be renovated to upgrade the rooms, expanded to provide more customer rooms, and include laundry and storage/carpentry space.
For more information regarding how you can help these projects, please contact:  Lieutenant Regina Gini +675 325 5542.
FUNDRAISING
Have a great idea to raise funds in aid of The Salvation Army? We would love to discuss it with you if your school, association or organisation is keen on organising a fundraising event. The funds raised will enable us to help our beneficiaries through our social service centres and programmes.
You may choose to raise funds for The Salvation Army or any of our centres listed below:

We are grateful to people who wish to contribute, but request that all event organisers and fundraisers contact us at Tel: (675 325 5542 or email your proposal to SBAPNG@png.salvationarmy.org  for our consideration and approval before embarking on any event to benefit The Salvation Army.
CORPORATE GIVING
Corporations play a very important role in supporting The Salvation Army's continued community work. Corporate giving has helped us meet some of our operational expenses as well as fund some of our development projects.
We need your company's support to sustain and develop social services to help those in need.
Please email us at  if your company is interested in:
Organising a fundraising project
Sponsoring The Salvation Army's projects
If your company would like to donate to The Salvation Army to assist us in caring for Papua New Guineans, please contact
INDIVIDUAL GIVING
The Salvation Army has been caring for Papua New Guineans since 1956. Help us care for those in need with your kind donation.
You can donate to The Salvation Army using the following methods:
•Phone +675 325 5542 to donate.
•Posting a cheque to The Salvation Army, PO Box 1323, Boroko, NCD Papua New Guinea.   Please let us know if your donation is for a specific appeal e.g. "Red Shield Appeal".
Or going to the  Donate Today button on the home page.
Thank you for supporting our work.    Your generosity gives hope to others.    We thank God for you.