Worship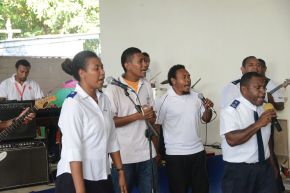 All those attending The Salvation Army Papua New Guinea, would like to invite you to experience purpose, meaning, peace and fulfilment that Jesus has promised.
Every Sunday Family Worship Church Services are held at Salvation Army churches all over Papua New Guinea.
Children are an important part of our Church and Sunday School is held at Salvation Army churches.  Allowing children to freely learn & explore the Christian faith and principles in a safe learning environment with other children of their own age.
PNG Salvationists love worshiping God through music, the Word of God and prayer.