Steamships donates to RSA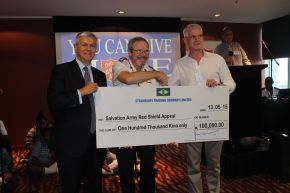 Steamships gives K100,000 to Red Shield Appeal
Steamships supported The Salvation Army with its annual donation of K100,000 during the launch of the Red Shield Appeal. Steamships has been assisting Salvation Army for over a decade due to its community programs which aims at providing refuge for women & girls affected by violence, providing VCT testing, education and community projects.
The guest of honour for the event was wife of Prime Minister, Lynda Babao O'Neil, who also donated K100,00 from the O'Neil Foundation.
Other donors were the Malaysian Association who donated K50,000, Exxon Mobil gave K40,000 while the three commercial banks each donated K10,000.
The Appeal luncheon was hosted at the Grand Papua Hotel.