Church & Programmes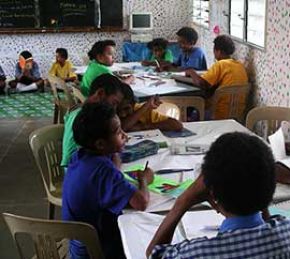 The Salvation Army is a vibrant faith based community which welcomes everyone. And we'd love you to be part of it!
Worship with us:   find detailsof your closest Salvation Army Church
The Salvation Army in Papua New Guinea are known as churches
Women's Ministries
The Home League
A weekly meeting held for women in every Salvation Army church and fellowship to promote the four fold purpose of :-
Worship to God,
Fellowship with other women,
Education about home and family matters
Service to the community and those who have individual needs.
Home Leagues in this Territory have been instrumental in bringing people to Christ and in many cases, becoming members of the local church or fellowship.
Regional Rallies are regularly held throughout PNG and are a time of encouragement, sharing and praying for all those who attend.


Junior Miss
This is a program introduced by this territory for unmarried girls from 13 to 21 held once a week in the majority of Churches and Fellowships. They come together and learn skills training and enjoy each other's company, as well as Bible Studies. All divisions conducted a Junior Miss Camps during the year.
 Men's Fellowship
It is a time when men & young boys come to fellowship together, talk about the challengers they face and encourage each other, how to live with God and let God transforms their mindsets and hearts so they know the will of God in their lives.  The men usually have their own events and one of this is the men's only weekend.
Community Care Ministry 
Provides an opportunity for Christian people of all ages to be involved in a caring ministry in the church and in their local villagel   The Salvation Army has long been recognised as an organisation with a desire to express its Christianity in a practical way.  Community Care Ministries members are dedicated Christians who show love and care for people, providing a diverse range of  Community Care Ministries that touch the lives of people in need.  Matthew 25:40:  "I tell you the truth, whatever you did for one of the least of these brothers of mine, you did for me. 
 Playgroup
This is an extension of the Billum Roll and is a group that provides a meeting place for Mothers, Fathers and their babies/children to learn new skills, share in fellowship and worship together.  Playgroup is an outreach opportunity to link parents and children to the Church and ultimately to Jesus Christ.
Youth
Youth Groups are held in most churches and fellowships.   The youth enjoy friendship, singing, fun activities, Bible studies.  They hold youth rallies, prayer retreats, youth mission trips and gospel walks.  
Children
Sunday Schools Children's Camps, rallies and Junior Miss & Mr in a are a feature in our programmes. Many young children are now getting involved in these activities.
The Junior Soldier programme and Corps Cadet Programmes are also conducted throughout the territory. We have a resident translator who takes material produced in English and translates it into 'tok pisin' for our young people.