Health Services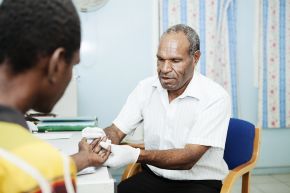 The venture into providing health services within Papua New Guinea commenced almost simultaneously with "The Salvos" venture into this country.
What commenced with the teaching of basic hygiene and remedial first aid has grown into a service that touches over 90 communities stretching over six provinces in PNG.
Community Health Workers Training School
Community Health workers are trained each year at the Community Health Workers Training School (CHWTS) in Kainantu in the Eastern Highlands.    They study both theory and practical for two years.
After graduation the Community Health Workers work in the many Health Centres and Community Aid Posts throughout the country.
If you are interested in becoming a Community Health Worker contact Community Health Workers Training School, Private Mail Bag 3, Kainantu E.H.P. 537 1404
House of Hope
is a great way forward for The Salvation Army to be part of the fight against HIV/AIDS in the country.  It fits well with the way we operate – the compassionate heart of the Army can find much expression through our Houses of Hope.  Classes for AIDS orphans for example are conducted at Ela Beach, along with Drop-In opportunities for people living with HIV/AIDS.
 Jim Jacobsen Centre - is in a residential setting and provides HIV/AIDS service co‑ordination and counselling in the North Coastal Division
House of Hope Kainantu – This is based at the Boiva Neyaha Memorial Complex (BNMC).in Kainantu.   There are  two rural outposts, at Onamuga and Haparira.  They test people for HIV/AIDS, offer counselling and support, and also 'go out' to communities rather than wait for people to come in.  They also offer home based support for people living with HIV/AIDS. 
House of Hope Ela Beach (Port Moresby) – Team Leader Major Ridia Nenewa.  The House of Hope  provides ongoing counselling, meetings and a "Meri Seif Haus" (women's refuge) for Domestic Violence Victims.     Most of the mothers attending our programs are self employed and victims themselves.  We have seen and heard good responses from our ladies telling us that changes have taken place in their own lives and homes because of our literacy program