Closure of FODE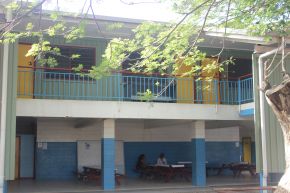 The Salvation Army reluctantly closed its FODE services in Port Moresby.
'We are particularly mindful of our students at this sad time,' said Major Kevin Unicomb, Secretary for Salvation Army Programs in Papua New Guinea.
The Salvation Army in Papua New Guinea established a then College of Distance Education (C.O.D.E ) now Flexible Open and Distance Education (F.O.D.E), in affiliation with the national Department of Education in 1980.  The centre was opened specifically for the purpose of upgrading the formal education of the Pastors of The Salvation Army.  Due to its success the FODE centre was opened to students from the general public.
In 2007 new facilities were built and The Salvation Army FODE centre continued to provide this service successfully to students who were pushed out of the national education system.  Many success stories are told where students have upgraded their education enabling them to gain entry to the national education system to complete their formal education whilst others have gained entry to tertiary institutions or gone on to be gainfully employed.
The FODE has always relied on the fees paid by the students together with grants and materials made available by the national Department of Education to provide the service.  However, over recent years more and more of the financial burden has shifted to the Army, thus placing much financial strain on the internal resources of The Salvation Army to maintain the operations of FODE.
'Students will be provided with transfer notes with the hope that they can continue their education with other FODE campuses in the country,' said Major Unicomb.
'The Salvation Army wishes to acknowledge the contributions of everyone over the years in providing this service to our young people,' he said.