You are here:
Home › Our Services
Our Services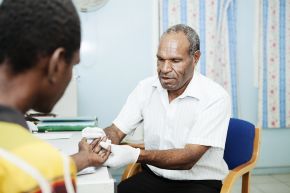 Health Services
The venture into providing health services within Papua New Guinea commenced almost simultaneously with "The Salvos" venture into this country.
What commenced with the teaching of basic hygiene and remedial first aid has grown into a service that touches over 90 communities stretching over six provinces in PNG.
Community Health workers are trained each year at the Community Health Workers Training School (CHWTS) in Kainantu in the Eastern Highlands.    They study both theory and practical for two years.
After graduation the Community Health Workers work in the many Health Centres and Community Aid Posts throughout the country.
If you are interested in becoming a Community Health Worker contact Community Health Workers Training School, Private Mail Bag 3, Kainantu E.H.P. 537 1404