Salvos officially open their new Motel & Apartments
9 March 2016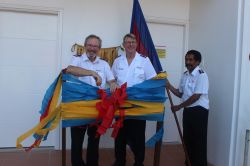 Salvos officially open their new Motel & Apartments
The doors of the new Boroko Motel & Apartments were officially opened and dedicated by chief secretary from the Australian Eastern Territory Lt Colonel Mark Campbell. 
To witness this occasion were members of the public and important guests. Territorial Commander Colonel Andy Westrupp used the biblical story of Jesus as an example of The Salvation Army's heart for people to provide accommodation for anyone in a big city who wants to stay in a hostel.  
Apart from providing affordable accommodation, he also said that the revenue gained from it will provide funding to support the organisation's social and spiritual programmes in Papua New Guinea. 
Lt Colonel Mark Campbell representing The Australian Eastern territory dedicated the Boroko Motel & Apartments. He said even though the building was complete, it was not finished until it was given back to God. He said the ministry had just began and asked the crowd what they wanted from the place.
"Do you see it as a community, a safe place or a means to generate income?"  He told everyone to thank God for it and to give it back to God.
The motel & apartment is a two storey building with 16 self contained units, designed by Tusitala Architects and constructed by Wel Builders Ltd.
This is The Salvation Army's first motel to open and operate in Port Moresby.