Youth Adults gather together in Goroka
29 September 2015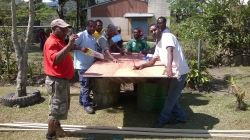 Young Adults gathered together in Goroka for a week of Capacity Bulding.  They enjoyed learning new leadership skills.  Gender Based Violence Awareness was  taught.
Time was spent focusing on PNG and Christian values, giving a holistic approach of training to the next generation.
 They enjoyed making packing boxes and coffins.