PNG Salvo Striders conquer Gold Coast Marathon
28 August 2016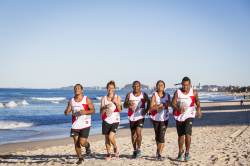 Five young people from the Papua New Guinea Territory completed the 42km Gold Coast Marathon, as part of The Salvation Army's Hope and a Future program.
Representing team "Salvos Striders", Alice Johnnie, Alvin Apana, Brigitte Bugave, David Kepi and Jon Eric had trained for the event as part of the program, with mentors both from Australia, and those from PNG who had previously completed the marathon. Bill Hunter, leader of the Army's God's Sports Arena and experienced marathon runner, led the mentors: Captain Brad McIver and Alyce McLeod from the Australia Eastern Territory; and Greg Vali, Isaach Yasaking and Leonie Henari from PNG.
Now in its third year, Hope and a Future gives young PNG nationals, identified as future leaders in their country, the opportunity to be mentored in leadership skills and is modelled around four key pillars – faith, fitness, education and leadership – with the aim of developing them into future leaders in their church, community and future workplaces in PNG.
"It was hard, and I lost hope in the middle, but my mentor, Bill, kept me going," said Alice. "He encouraged me along the way and, with the strength of God and Bill's help, I made it. It was really exciting when I crossed the finish line."
Jon loved the challenge of running the marathon, but struggled during the last 10km. "My mentors, Alyce and Greg, helped me to focus, to use my mind and brain power, and it was just an awesome feeling to finish the race," he said.
Leonie found it challenging to both run another marathon, and mentor at the same time. "It felt great though, to see Brigitte get over the finish line," she said. "I have gained strength from doing this and have learned that pain is just temporary but finishing is forever."
Colonel Mark Campbell, Chief Secretary-in-charge, and Colonel Julie Campbell, Territorial Secretary for Women's Ministries, completed the 5.7km walk challenge, and led a worship meeting with the runners the day before the marathon. Other Salvation Army leaders and representatives from Aged Care Plus and Salvos Legal also took part in the weekend events. Several corps from NSW and QLD also had teams participating.
As part of the program, the young people spent the following week serving and participating at Queensland EQUIP, the Salvation Army's camp for youth and young adults that focuses on preparing participants for frontline mission in their communities. Greg and Leonie served at Brisbane Streetlevel Mission and Isaach at Brisbane Recover Service Centre Moonyah.
Sharon Callister, Chief Executive Officer of Aged Care Plus, said that the program is going from strength to strength, with those participating in the weekend's events being "just brilliant". "This is an exciting opportunity for the young people, but also for corps to be involved. It's about fitness, but also community, fellowship and support."Aged Care Plus and Salvos Legalare the major sponsors for the program.
"This program is a dream come true for most of these kids," said Lieutenant-Colonel Miriam Gluyas, NSW and ACT Divisional Commander, who was instrumental in starting the program in PNG, with Sharon Callister, as part of their work in Manus Island with the now closed Humanitarian Mission Services. "They come to Australia, have people who mentor them, pray for them and stand by them; they have educational opportunities in their own country and become leaders in their churches. I believe that they will also become leaders in PNG.
"Next year, to ensure that this program can continue, we are looking at developing a fundraising initiative whereby 200 plus people can commit to raising $100 and participating in the weekend for their own benefit as well. Watch this space!"
For more information, go to the Aged Care Plus website.