EMPNG partner with Salvos to support drought relief efforts
9 December 2015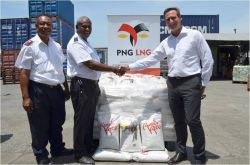 EMPNG SUPPORTS DROUGHT RELIEF EFFORTS  
ExxonMobil PNG (EMPNG), operator of the PNG LNG Project, is partnering with community organisations and provincial governments to support drought relief efforts across Hela and Western Provinces.
 In Hela, EMPNG has donated 68,500 Kina to the PNG Uniting Church to assist in their relief efforts around Hela. The Uniting Church will work alongside the Hela Provincial Government to address the food and water shortage issues faced by communities.
 In addition EMPNG, with endorsement from the National Disaster Centre, is supplying clean drinking water to nearby community organisations such as schools, clinics and churches.
 To aid relief efforts in Western Province, EMPNG has funded almost 40,000 kilograms of rice in partnership with the Salvation Army and the Fly River Provincial Government for Western Province.
 EMPNG will also provide logistical support to the Fly River Provincial Government to support the distribution of rice to those in need.
 Salvation Army Territorial Partnership Coordinator Bob Haro said he was appreciative of EMPNG's contribution to providing disaster relief to communities in need.
"The Salvation Army is proud to partner with EMPNG to provide disaster relief to PNG's drought effected communities," Haro said.
 "The donation of rice bags to remote communities is invaluable in helping replenish low food supplies," he concluded.
EMPNG Managing Director Andrew Barry said the company recognises the impact the current drought conditions are having right across the country.
 "We have been helping where we can across our site locations. By partnering with community organisations and provincial governments, we can ensure that our support is reaching those most in need," said Barry.
 ExxonMobil PNG also acknowledges the kind support of Patricks Transport who provided a discount for purchase of the rice and Consort Shipping who is shipping the rice free of charge. 
 "Through collaboration we are helping communities manage the drought impacts and assisting them to rebuild their livelihoods," Barry concluded.
Communications materials are also being developed around the effects of El Nino, coping strategies and safe-behaviours to help communities deal with the drought.