Red Shield Appeal a success
24 May 2015

'Hope through community' 
A wonderful occasion when invited guest celebrated the work undertaken in God's name by The Salvation Army at the Grand Papua Hotel. The special guest for the occasion was the First Lady Mrs Lynda Babao O'Neil and the Australian High Commissioner Ms Deborah Stokes. In Brent St – Hill opening remarks he thanked The Steamships Trading Company and The Coral Seas Group of Hotels for hosting the event and told all present that The Salvation Army can only do what it does, through the generous support given by its corporate sponsors and private sponsors. He also stated that the great thing about the Red Shield Appeal and The Salvation Army is everything that they raise goes to the community projects and the administration cost does not go elsewhere. Everything that is raised in the country stays in the country.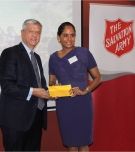 Mrs Lynda Babao in her speech stated that many of our people particularly in the more disadvantaged areas are feeling stuck, trapped and left behind in an ever so fast growing economy. She said, 'they need hope to be empowered and hope is an enormous motivator to succeed'.  The Salvation Army has been providing hope to the people of Papua New Guinea since 1956 through Education, Health Care, Funding, spiritual guidance and providing basic necessities like food & clothing. She acknowledged to all that The Army has eleven centres throughout the country where they serve and empower remote communities. She informed all about the diverse work of The Salvation Army before challenging them to support its work financially. Mrs Babao on behalf of the Prime Minister Peter O'Neil and the National Gaming Board presented a cheque of K100, 000.000 to the Red Shield Appeal.  

Major Ridia Nenewa (House of Hope Manager) Informed all gathered that it is a challenge working with the women and children who come to the centre because they have been abused, unvalued and sometimes unwanted or they see that nobody wants to care for them. House of Hope provides support services & counselling to this people. Other programmes are the VCT (voluntary counselling & testing), literacy programmes for women & children, help women facing violence, alcoholics etc..  She went on share how some of this people have found hope there.
After this presentations of cheque were made from different cooperate sponsors and business houses and a total of K350, 000.000 was raised. Territorial Commander Andrew Westrupp concluded the afternoon by again expressing thanks on behalf of The Salvation Army.