Mission Priorities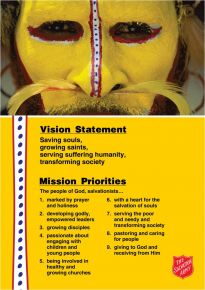 of The Salvation Papua New Guinea.
 The people of God, Salvationists...
1                    marked by prayer and holiness
2                    developing godly, empowered leaders
3                    growing disciples
4                    passionate about engaging with children and young people.
5                    being involved in healthy and growing churches
6                    with a heart for the salvation of souls
7                    serving the poor and needy and transforming society.
8                    pastoring and caring for people
9                    giving to God and receiving from Him.